Why Choose Us?
Free Estimates

Available 24/7/365

60 Minute Rapid Response

Fully Licensed And Insured

We Work With Your Insurance Company
Call Now (973) 954-9700
Newark Leading Smoke Damage Cleanup and Fire Damage Repair Company
In most cases, fires that occur to your home are unexpected, and equally as devastating. This is a burden that no home or business owner should have to face alone. That is where we come in. Newark Disaster Pros is an industry leader in the fire damage and repair industry, as we have been years of experience. We are your area' preferred contractor when it comes to fire damage repairs, and have a loyal customer base for that reason. Our integrity shows in our work. We are bonded, licensed, and insured to do structural repairs, board-ups and anything relating to fire damage. We are also available 24 hours a day, 7 days a week, and 365 days a year.
We will be there once the first responders leave to quickly assess the damage and come up with a plan of action. It is vital that you call quickly after sustaining fire damage to your property, as you may not initially see the damage, but a pair of trained eyes will. There are many issues that can be hidden under the surface when dealing with fire damage. This could be anything from electrical issues to hidden water damage from extinguishing the flames. That is why it is best to call the professionals at Newark Disaster Pros after undergoing fire damage. We not only have the industry's most innovative equipment, but IICRC trained technicians that know exactly what to look for in this situation.
Professional Smoke Damage Restoration for Commercial and Residential Properties Throughout Newark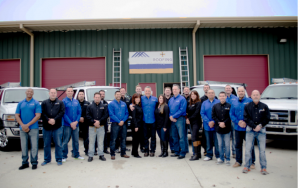 It is imperative to quickly board up your property after sustaining damage, as that will eliminate the threat of burglary to your personal items, and it is also required by your insurance carrier. Our compassionate and friendly team will help you throughout this full process from start to finish, and will help you deal with the insurance company if you are unsure about where to begin. You can rest easy knowing that we will be there to guide you through this challenging time.
Fire and smoke damage can leave a home charred, but you wouldn't expect that you could salvage some of your belongings. The good news is that you can. We can help restore your items to pre-loss condition with our recent technology. Soot and smoke stand no chance against our high-tech equipment, and your home or business will be smelling fresh in no time.
When dealing with fire damage, know that water damage is also usually a reality as well. We also undertake water damage and are fully equipped to handle it with skill and ease. We will assess the damage and keep you informed of everything we have found. If you need assistance in this tough time, look no further than Newark Disaster Pros.
Customer Reviews & Testimonials
We had a sewer backup in our finished basement. This was an emotionally devastating experience and we had no idea where to start. The team from 911 was very professional and quickly calmed our nerves and in a few days had our home back to normal. Thank You so much! Theresa Robinson