Why Choose Us?
Free Estimates

Available 24/7/365

60 Minute Rapid Response

Fully Licensed And Insured

We Work With Your Insurance Company
Call Now (973) 954-9700
Newark Sewage Cleanup and Basement Flooding Services
A flooded basement is something that no homeowner wants to deal with, but it happens quite often. When this instance occurs, it is quite important to call a group of professionals who have experience removing water from properties. That is where Newark Disaster Pros comes in. Having years of experience in this industry, we know what it takes to remove water from a property and eliminate the lingering threat of mold following the extraction. When dealing with any type of water on your property, it is essential to call professionals timely. If water lingers on a property with no action taken, it weakens your wooden beams, further damages the drywall, and can lead to the threat of growing mold.
We have the latest equipment including air scrubbers, industrial grade dehumidifiers and fans, moisture finders, and more! Our certified technicians are experts at handling this equipment and restoring your property to the condition it was in prior to water taking over. We know how devastating it can be to lose your personal items and see your basement covered in water. For that reason, we are absolutely dedicated to making this process as easy and as stress free as possible for you. We will work alongside you and your insurance provider to ensure that everything is taken care of correctly, with no hassle.
Water in the basement can be tricky, as there are many cracks and crevices that it can enter, and to an untrained eye, it may look like nothing is wrong. Our technicians have gone through long hours of training to ensure that they know where to look when assessing a property after flood damage. We use high technology moisture meters to check all affected areas, making sure that we dry out your basement accordingly.
Professional Cleanup of Sewage by Certified Technicians
We aim to make this experience as easy for you as possible, since 100% customer satisfaction is our number one goal. We will have a representative working with you throughout this process – to help you get your claim approved with your insurance company, to recommending new flooring options if you should so choose! We want to include you in everything we're doing throughout the water mitigation process to the finished product.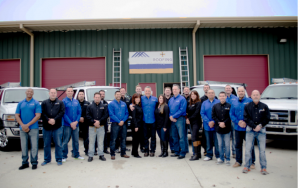 We want to be the company you call in your time of need. Newark Disaster Pros is the leader in flooded basement cleanup in your area, and we want to show you why that is. We employ the highest trained individuals and the highest technology equipment because we believe that you deserve the best of the best when it comes to home repairs. Call us today for any flooded basement needs you may have. We are available 24/7, 365!
Customer Reviews & Testimonials
Found some mold in our attic and we were concerned it would cost a fortune to clean up. Fortunately, the team from 911 got it safely cleaned up without breaking the bank. THANK YOU ! Peter Riley