Why Choose Us?
Free Estimates

Available 24/7/365

60 Minute Rapid Response

Fully Licensed And Insured

We Work With Your Insurance Company
Call Now (973) 954-9700
Newark Storm Damage Repair Professionals
Newark Disaster Pros has crews on call 24 hours a day, 7 days a week. We know that storm damage occurs whenever, wherever. That is why we have an emergency response line and can be to your location within 30 minutes of your call. With offices all over your area, we are equipped to handle any type of storm damage request you may have. From securing your home, tarping your roof, stabilizing your structure, or removing debris, we are the company to call.
Professional Repairs From Storm Damage – Emergency Board Up – Roof Repairs
Storm damage can take many forms and there can be many different variables involved with performing the cleanup. Whether a tree has fallen onto your house or you need your windows boarded up, we are the company to call. With a reputation of being the leading restoration firm in your area, we won't let you down! We are ready to deal with any type of damage that is caused from high winds, heavy rain, or flying debris immediately.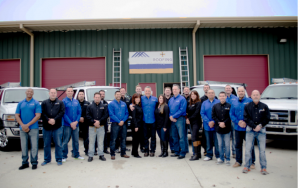 Without the adequate coverage on your roof or your windows, you may deal with rainwater seeping into your property – this would only lead to a bigger mess and more expensive cleanup.  By calling in a timely manner you are not only ensuring that we arrive quickly, but also that no further damage will be sustained to your property.
We employ the industry's most sought-after technicians and the highest grade of equipment possible, because we believe that quality service is important. We have years of experience repairing properties of any size following a storm, and want to be the company that you call in your time of need! After a storm, it is important to call swiftly so that trained eyes can look at your property. You may not notice something that needs to be dealt with as our trained technicians would, which can lead to further damage to the structural integrity of your home or business.
Our teams are also experts at removing debris and downed trees. We are experts at roof repair, shingles, and window repair caused by a fallen tree. We will also provide temporary power to your home so that you can rest easily with electricity in your home if needed.
Newark Disaster Pros is fully licensed, bonded and insured. We are the industry experts when it comes to restoring properties after storm damage. If you are looking for an affordable solution, look no further! We will set you up with an individualized plan for the restoration of your home, and will work with you every step of the way to ensure that you are completely satisfied with the services we provide you with. Call us today if you need any of the above services!
Customer Reviews & Testimonials
We had a sewer backup in our finished basement. This was an emotionally devastating experience and we had no idea where to start. The team from 911 was very professional and quickly calmed our nerves and in a few days had our home back to normal. Thank You so much! Theresa Henderson